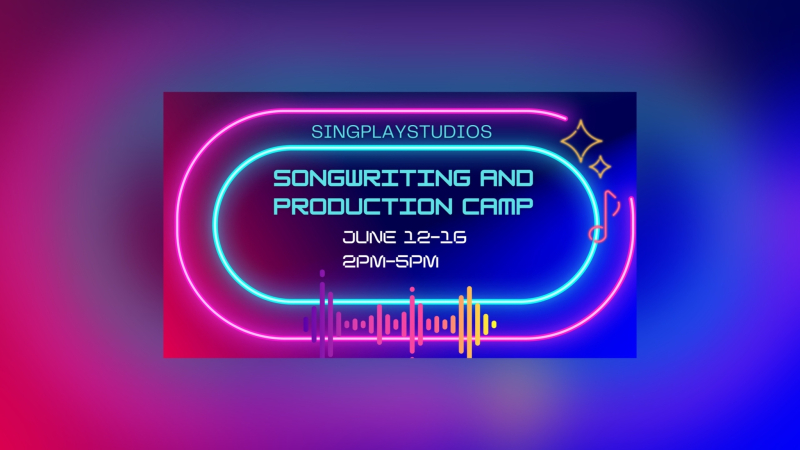 Songwriting and Production Camp (ages 9-16)
with Sarah Bonsignore
$30000
Use code EARLYBIRD by March 1st for 10% off!
Sarah Bonsignore (director of SingPlayStudios in Brentwood) will be running a 5 day songwriting and production camp for students aged 9-16. For three hours a day M-Th (2:30pm-5:30pm) and a full day on Friday (10am-4pm), students will collaborate with professional songwriters and producers to create original songs which they will then work to produce throughout the week. Students will learn skills like why and how to register their songs with a performing rights organization, why and how to enter metadata, and how to submit music to libraries for the sync lisencing world. We will also have special guests from the music industry giving invaluable advice on panels and listening sessions throughout the week. Students will be encouraged to perform at our final house concert on June 16th (6pm) and will be invited to perform in a songwriter round in Nashville later in the summer if they feel ready!
This camp is perfect for young people who love to sing, play instruments, write songs and collaborate with others. 
Students should plan to bring a notebook, pencils, an ipad or iphone if they have one, sunscreen, a snack and a water bottle. They will also need to bring a bagged lunch on the full day Friday. We will have pianos, keyboards, ukuleles, sound system and a house guitar and bass. Please bring any other instruments you may wish to play. No experience is necessary, but students should be ready to participate and collaborate with others in small group settings, and to give constructive, kind and supportive feedback in any listening sessions.
Sarah Bonsignore is a South African born songwriter, producer, educator and sync artist with over 40 placements in TV and film. Her music has been heard across the US, Canada and South Africa, and she has released multiple albums and singles. Sarah was a finalist in the John Lennon songwriting competition, and she has performed at Carnegie Hall as both a a piano and vocal soloist and a conductor. She was on the faculty of two prestigious schools in New York teaching choirs, music theory,  musical theater and songwriting for nineteen years before moving to Nashville with her family. She is also an arranger/composer and music book publisher with over ten books in her Amazon library ranging from beginner to intermediate piano pieces, ear training and vocal warmup books for adults, and songs for children that teach piano, ukulele and beginner harmony. 
The studio is located in the Carondelet area of Brentwood, north of Concord off Wilson Pike. Our address will be communicated after registration. 
Jun

12

-

16th

,

2023

Mon - Fri

for

1 week

from

2:00 - 5:00 pm
SingPlayStudios
(917) 756-6077
Brentwood, TN 37027